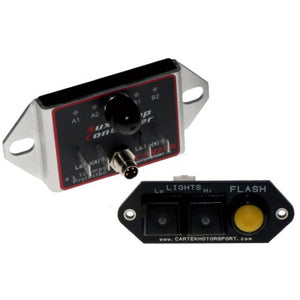 The compact, solid-state Auxiliary Lamp Controller is designed to control headlights (low beams and high beams or driving lights and passing lights) on race and rally cars without any additional circuit breakers, fuses, or relays. Four channels (controlled as two pairs) each handle up to a 10 amp load with automatic overload protection. Turn each set of lights on and off individually or flash both sets together to signall a pass.

A single M6 input stud accepts battery positive voltage from 7 to 18 volts. Each circuit has a standard 1/4" male spade output terminal to accept standard female push-on terminals. The three pushbutton switches (included) connect all at once through a single 4-pin screw-on connector. A row of red LEDs on the top indicate status on each channel (on, off, or fault) for easy troubleshooting. No configuration is required. Just make the connections and you're done!

The base module measures just 90mm x 42mm x 10.5mm thick (3 9/16" x 1 5/8" x 7/16" thick) not including the connectors on the top surface. Two latching (push-on, push-off) pushbutton switches turn the lights on and off, and a third momentary-contact switch automatically flashes both sets of lights (minimum of 5 flashes). Each switch has a built-in red status LED built in so you can monitor each channel even if you can't see the base module. The module weighs just 80g (3 oz), and the switch panel weigh 30g (1 oz).

Draws 0.02 Amps when all circuits are turned off. Note that this will add a parasitic draw to your electrical system, but because no configuration is required, you won't have to reprogram anything if you disconnect the battery during storage.

Made in the UK by professional racers, for professional racers. Not for street use.