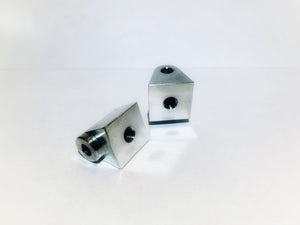 Leddy Motorsports' bolt-in S65/S85 Knock sensor brackets for stand-alone ECUs. 
———
BMW Factory S65/S85 engines did not come with provisions for knock sensors, instead utilizing ionic spark control to determine detonation. Unfortunately, this creates an issue when no longer using the factory ECU. 
Aftermarket ECU's like MAXXECU, Emtron, Holley, Haltech, etc, often leverage knock sensors to determine pre-ignition or detonation events. Unfortunately, the S65's unique cylinder architecture and limited block space has prevented an easy mounting solution…
Until now.
Using available space in the center V valley, our bolt-in knock sensor brackets install quickly, replacing the factory throttle body standoffs for minimal impact and rapid integration. Installation is no more difficult than Throttle Body Actuator replacement.
Ships as a set of 2 brackets. Replacement hardware not included. Requires spacing Throttle Body Actuators up 5mm for proper clearance.
———
Leddy Motorsports strives to provide the highest quality Race parts for your vehicle. We make every attempt to ensure proper fitment and integration of our race parts. However, as a race part, it is incumbent upon the end user to determine fitness and fitment for the application. Race parts are provided as a convenience for your build, with no guarantee or warranty.