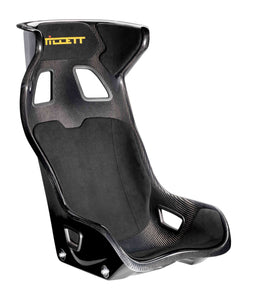 This competition focused seat is a new direction for Tillett Racing Seats and is based on our popular B6 Screamer. It retains the compact dimensions of the B6 but also has a side impact head support. The seat can be used comfortably without any lower padding, giving ultimate feel and feedback but at the same time retains great peripheral vision, which is essential in a competition seat. The ability of this seat to be used without covering and the carefully sculptured shape mean that you can achieve a lower driving position with more legroom. Its perfect ergonomic shape gives excellent support,
whilst at the same time leaves the shoulders free to help steer the car unhindered.
The C1 is ultra rigid but under impact envelops and decelerates the occupant in a controlled and limited way to avoid injury. This safely keeps the competitor in the intended position within the cockpit. The rigidity is vital for stopping the harness and Hans device from becoming loose during an accident. Another benefit is that the uncovered version is ideal in harsh environments.
The C1 has an XL size for drivers of over 100 kg with a waist size over 36 inches.
These seats are manufactured using our internally developed moulding system, which
creates perfect laminates that are super strong and consistent.